So I haven't been posting... but I have been doing. I have a few irons in the fire and doing my best to stay motivated.
I've been sewing a cute polka dot dress for a wedding coming up in two weeks. As soon as it's done I will post pictures. There have been plenty of speed bumps... mostly my own fault. The bust is far to big... so either I must stuff or alter. I prefer to keep the boobage natural so I'll alter. Here's the fabric! Isn't it cute?!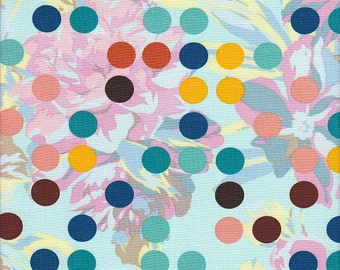 Also in the works... a Super Secret Craft Society has been formed! I invited a few friends to join me for themed craft nights. First night will be Bitches Get Stitches and setting a date is in it's final stages. It'll be nice to geek out with my crafty friends. My boyfriend, as loving as he is, can only carry on conversations about patterns and fabrics and whatnot for so long. I must find my own kind!
Lastly, I have made it a goal for myself to submit a design to
Spoonflower's weekly contests
.This week is Ditsy Crickets. I'm pretty pleased with how my design came out. I was surprised how fast it all came together. I was definitely in the zone for this!!! Got my fingers crossed to make top ten, but I won't be disappointed if I don't. There are so many experienced and talented people in that pool!
Next contest is Highway's and Byways. I keep going back and forth on what I want to do. I think I've finally narrowed it down!!! Have a sketch done up and my evening cleared to start working on it. I'm not sure if these other designers work way in advance. Maybe if I push myself I can get a bit ahead and a little more time to tweek the final design! Starting to brainstorm for the ones a little further out! Wish me luck.